Climbing Staff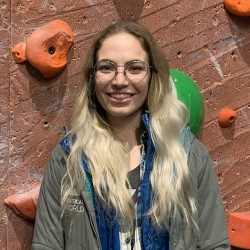 Meghan Daniel Assistant Gym Manager
1. My birthday is on April Fool's Day.
2. I can say the ABC's backwards in under 6 seconds.
3. Dog mom to 6-year-old collie mix, Walter.
4. Live in an unbuilt van.
5. Got back into climbing in May 2017.

Emily Taylor Groups Coordinator
1. My favorite movie is Oceans 11.
2. My favorite food is mac and cheese.
3. I have been climbing at VW since 2009 and I was on Team for 5 years.
4. I have 10 pets, including one horse.
5. I have 9 tattoos.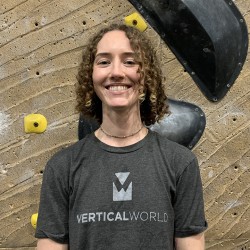 Jenny Albert Front Desk
1. Was run over by a car.
2. Can't sing but kills karaoke.
3. Favorite show is Samurai Jack.
4. Can do a handstand on a slackline.
5. Taking whippers brings me joy.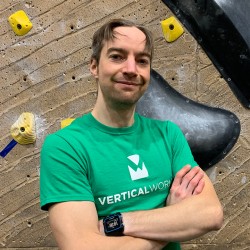 Steven Hammond Adult Programs Instructor
1. I have been rock climbing since the mid-90s, nearly 3 decades.
2. I have completed multiple Ironman triathlons.
3. I qualified for, and competed in, the Spartan Race World Championship.
4. I was a software engineer who worked on Halo: Infinite.
5. I am one of the best competitive eaters in the country, and competed in the Nathan's Famous Hotdog Eating Contest in Coney Island on July 4th, 2021.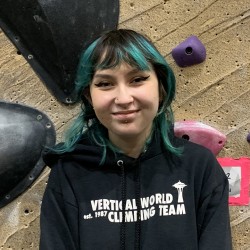 Megan Front Desk/Youth Programs Instructor
1. I have been climbing at VW Redmond since I was 9.
2. I have 9 cats, including two named Britney Spears and Will.i.am.
3. I want to be a professional body piercer.
4. My initials are MEGS.
5. I have a Shrek tattoo.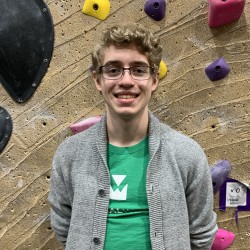 Ethan Owens Social Media Coordinator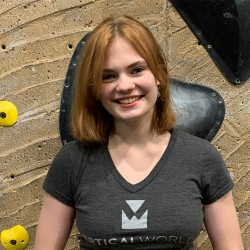 Sydney Jones Youth Programs Instructor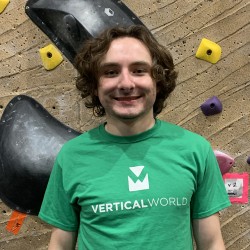 Henry Stirrat Youth Programs Instructor

Sam Rapoport Youth Programs Instructor
Hazel Ada Youth Programs Instructor
1. I play both piano and cello.
2. My favorite food is pho.
3. I'm on the Vertical World climbing team.
4. I played 7 sports before settling on rock climbing.
5. I am extremely clumsy.
Carl Lindberg Facilities Coordinator
1. I got into climbing because my wife took a climbing class through her college.
2. I was a lifeguard for 10 years.
3. I majored in music.
4. I was part of a Pop Punk band for three years.
5. I have been teaching for over 10 years and I absolutely love it.
Keegan Culbertson Front Desk
Eli Verme Programs Coordinator
Luke Stamps Front Desk
Adarsh Mulupulu Front Desk/Youth Programs Instructor
Caroline Brekkan Team Coach
Chloe Kim Team Coach
Ada Nevan Team Coach/Youth Programs Instructor
Niyara Dokukina Team Coach/Youth Programs Instructor
Suzuna Berry Youth Programs Instructor
Lily Iseminger Youth Programs Instructor
Katherine Leavitt Youth Programs Instructor
Mira McDermott Youth Programs Instructor
Zachary Polzin Youth Programs Instructor
Meera Krishnan Groups/Youth Programs Instructor
Gal Yossef Groups/Youth Programs Instructor