Climbing Staff

Matt Denton Gym Manager
Street Cred: 14 years of climbing and instruction experience.  I have worked for Vertical World since 2010 in youth programs, adult classes, outdoor guiding, route-setting and the youth climbing team. I am a certified Single Pitch Instructor with the American Mountain Guide Association, a certified Wilderness First Responder, and a certified USA Climbing Coach. I obtained a M.S. in Experiential Education from Minnesota State University in 2010.
Climbing Experience: I started climbing outside Austin, Texas 14 years ago at age 17, because a friend needed a climbing partner. By age 19, I had started working for a summer camp as a member of the adventure recreation team. I taught rock climbing, rappelling, caving, team building and wilderness skills.
Favorite Climbing Area: Washington Pass will always hold a special place in my heart.
Contact Matt
.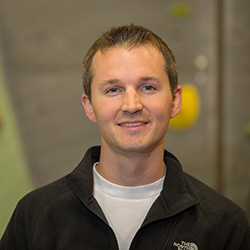 CJ Huseby Gym Assistant Manager
Street Cred: I am a certified Climbing Wall Instructor through the American Mountain Guides Association.
Climbing Experience: I started climbing in various places around Spokane in the summer of 2008 with some college buddies.  Though I started outdoors and still prefer climbing outdoors, it wasn't until I climbed in the gym that winter that I gained a true appreciation for the sport.
Favorite Climbing Area: This is a question to which I could not possibly provide a direct answer.  There are, of course, places I prefer over others, but crowning one as the absolute best just isn't possible.  When I think about a climbing area, I think about the experiences I've had there.  Each area, to me, represents memories of adventures, none of which I would trade for another.  I think the Beatles said it best, "In my life, I've loved them all."
Contact CJ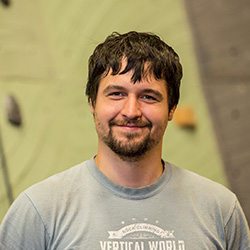 Andy Nelson Facilities Coordinator
Street Cred: AMGA Climbing Wall Instructor, WMI Wilderness First Responder, Easy Street Veteran.
Climbing Experience: I started climbing in college on a bit of a fluke. I only needed a few general credits to graduate, so I was filling them with various outdoor PE classes, backpacking, snowshoeing, running; all things I had done before and knew I would enjoy. Then I took Beginning Rock Climbing. After day one I was immediately hooked. I continued and took the second class in the series, then became a TA for it (which also sparked my love of teaching this sport, but that's a different story). After several quarters as a TA Vertical World offered me a position and I've never looked back.
Favorite Climbing Area: There are several areas that have special places in my heart. First would have to be the Far Side at exit 38. It's where I first climbed outdoors, where I honed my technical skills, and the Snoqualmie Valley is where I spent a good deal of time as a youngster. For sheer beauty and volume though I would have to say Icicle Creek in Leavenworth is my current favorite area. It seems like you can't walk 100 feet without running into a pristine rock face, and being nestled in that alpine environment makes it seem so surreal.
Contact Andy

Emily Grabow Front Desk
Street Cred:  Currently studying biology at the University of Washington. I built a human poop bag dispenser at Index to earn my Gold Award for Girl Scouts.
Climbing Experience:  I've been climbing since I was in 6th grade starting at Vertical World. I also climbed on the competitive team for 5 years and continue to participate in local comps.
Favorite Climbing Area:  Joshua Tree! (I have a tattoo of one of those weird looking trees)

Daniel Pruss Front Desk/Youth Instructor
Street Cred: Started working at Vertical World in 2015
Climbing Experience: First visit to Vertical World was in 2012, was in youth programs, love climbing outdoors
Favorite Climbing Area: Probably Leavenworth, there's never a shortage of fun routes, and it has a bit of everything.

Edward Daschle Front Desk/Youth Instructor
Street Cred: I first worked at Vertical World in 2008 when I taught Little Rockers. Between then and now a couple of those little rockers have worked at the gym, teaching team kids and their own little rockers. And now I'm back working at the gym; it's the circle of Vertical.
Climbing Experience: I've been climbing consistently since I was 13, though it was somewhere between ages 6 and 8 when I tried out climbing for the first time in a Vertical World summer camp. There are pictures. I hung upside down. I was adorable.
Favorite Climbing Area: Gold Bar and Leavenworth. The first places I really climbed outdoors, and still my favorites.

Devin Bishop Route Setter/Instructor 
Street Cred: 
Born and raised in the Pacific Northwest, Devin has climbed extensively in the Cascades for nearly thirty years and guided for more than ten. His adventures as a rock climber, alpinist and ski mountaineer have taken him to Alaska, California, Oregon, Idaho, Utah, Nevada and British Columbia. Devin is an adventurous spirit and enjoys sharing his enthusiasm for climbing with others.
Certifications:
Wilderness First Responder
AIARE Avalanche Level 2
AMGA Single Pitch Instructor Course April 2018
AMGA Rock Instructor Course, April 2012
AMGA Certified Climbing Wall Instructor (Lead)
Climbing Experience: 
Denali (2) via West Buttress
Mt. Rainier (75+) via Ingraham Direct, Disappointment Cleaver, Kautz, and Emmons Glacier routes
Mt. Hood (1) via South Side
Mt. Baker (30+ ) via Easton, Coleman/Deming and North Ridge routes
Mt. Shuksan (3) via Sulphide Glacier, Fisher Chimneys/NE Ridge
Mt. Olympus (2) via Blue Glacier
Mount Stuart (2) via Full North Ridge IV 5.9+ and West Ridge III 5.6
Dragontail Peak (4) via Backbone Ridge IV 5.9 & Serpentine Arete III 5.8routes.
Prusik Peak (3) via Stanley-Burgner III 5.9+ and Beckey-Davis III 5.9 routes.
Forbidden Peak via West Ridge III 5.6
Liberty Bell via Liberty Crack V 5.10 C2
South Early Winters Spire via the Direct East Buttress III 5.10 C1
El Capitan via the East Buttress III 5.10b/c
Half Dome (3) via Snake Dike III 5.7
Favorite Climbing Area: Yosemite, CA, no contest.

Matt Jones Head Team Coach

Jessica Lee Front Desk/Youth Instructor
Street Cred: Currently attending Bastyr University for Nutrition and Culinary Arts. Though I only started climbing in 2017, I can boulder, top rope and lead. I will climb 5.12+ one day!
Climbing Experience: I remembered climbing at parties or special events when I was little, however, there was no such sport where I grew up…but I have many years of wall and tree climbing experience…hehe. I can help with boulder, top rope, and lead climbing indoor and outdoor.
Favorite Climbing Area: As long as it's outside, I am happy.