Climbing Staff

Adam Pessl General Manager
Street Cred: 18 years working in the climbing gym industry
Climbing Experience: Took my first climbing class @ Vertical Club on Eliot Ave. in 1987. I was 12 years old. Began spending most weekends @ Index shortly there after. Graduated from Index to Yosemite. Climbed El Cap in 1995. Discovered bouldering shortly there after and realized it was much less work than climbing big walls. Spent many days bouldering in Leavenworth, and then discovered my desk in the office at Vertical World. The rest is history.
Favorite Climbing Area: Seneca Rocks West Virginia
.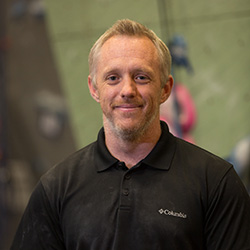 Matt Denton Gym Manager
Street Cred: 14 years of climbing and instruction experience.  I have worked for Vertical World since 2010 in youth programs, adult classes, outdoor guiding, route-setting and the youth climbing team. I am a certified Single Pitch Instructor with the American Mountain Guide Association, a certified Wilderness First Responder, and a certified USA Climbing Coach. I obtained a M.S. in Experiential Education from Minnesota State University in 2010.
Climbing Experience: I started climbing outside Austin, Texas 14 years ago at age 17, because a friend needed a climbing partner. By age 19, I had started working for a summer camp as a member of the adventure recreation team. I taught rock climbing, rappelling, caving, team building and wilderness skills.
Favorite Climbing Area: Washington Pass will always hold a special place in my heart.
.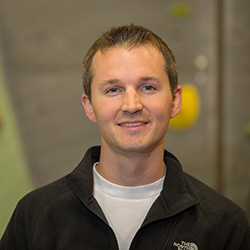 CJ Huseby Gym Assistant Manager
Street Cred: I am a certified Climbing Wall Instructor through the American Mountain Guides Association.
Climbing Experience: I started climbing in various places around Spokane in the summer of 2008 with some college buddies.  Though I started outdoors and still prefer climbing outdoors, it wasn't until I climbed in the gym that winter that I gained a true appreciation for the sport.
Favorite Climbing Area: This is a question to which I could not possibly provide a direct answer.  There are, of course, places I prefer over others, but crowning one as the absolute best just isn't possible.  When I think about a climbing area, I think about the experiences I've had there.  Each area, to me, represents memories of adventures, none of which I would trade for another.  I think the Beatles said it best, "In my life, I've loved them all."
.

Anique Johnson Director of Programs
Street Cred: A degree in Outdoor Recreation Management from WWU and have my CWI (Climbing Wall Instructor) Certification. Climbing Experience: Worked for Vertical World since December 2007.
Favorite Climbing Area: Anywhere warm!
 .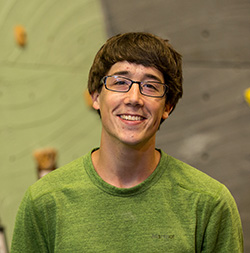 Alex Fritz Head Coach / Head Route Setter

Street Cred: Multi-time U.S. National Team for competitive climbing in bouldering, sport, and speed. Apprentice Coach for U.S. National team for the World Youth Championships in 2013. I also have a Level 1 USA Climbing Route Setting certification.
Climbing Experience: My first day of climbing was at the old Lynnwood REI location where I was the only one in my group of friends who made it to the top of the wall without crying. After that I started climbing recreationally at Cascade Crags in Everett, soon after starting to compete. After a few years I switched to the dark side and joined Vertical World's competition team. The rest is history!
Favorite Climbing Area: I am a big fan of the local Little Si crag because of all the mega classics and how hard it is to get good at climbing there. However if I was to branch out a bit, I would say I rather enjoy Squamish in the better parts of the year. Maple Canyon found a place in my heart years ago and I would like to go back. Anything with slick granite slopers and hard-to-read sequences are usually my favorites.
.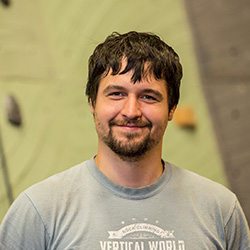 Andy Nelson Facilities Coordinator / Instruction Coordinator / Route Setter
Street Cred: AMGA Climbing Wall Instructor, WMI Wilderness First Responder, Easy Street Veteran.
Climbing Experience: I started climbing in college on a bit of a fluke. I only needed a few general credits to graduate, so I was filling them with various outdoor PE classes, backpacking, snowshoeing, running; all things I had done before and knew I would enjoy. Then I took Beginning Rock Climbing. After day one I was immediately hooked. I continued and took the second class in the series, then became a TA for it (which also sparked my love of teaching this sport, but that's a different story). After several quarters as a TA Vertical World offered me a position and I've never looked back.
Favorite Climbing Area: There are several areas that have special places in my heart. First would have to be the Far Side at exit 38. It's where I first climbed outdoors, where I honed my technical skills, and the Snoqualmie Valley is where I spent a good deal of time as a youngster. For sheer beauty and volume though I would have to say Icicle Creek in Leavenworth is my current favorite area. It seems like you can't walk 100 feet without running into a pristine rock face, and being nestled in that alpine environment makes it seem so surreal.
.
Maria Monaco Retail Coordinator / Front Desk / Instructor
Street Cred: I have a BA in Business/Marketing, 3 kids, 3 dogs, 1 gecko, a mouse named Amy Winemouse….and I love to climb! Climbing Experience: I've always loved hiking but discovered climbing at a birthday party in… 2002? I was hooked after my first try. Since then I've climbed all around Washington and Oregon. Recently, I completed Mt Whitney at 14,508ft in a day.
Favorite Climbing Area: Smith Rock is my fave for all around great climbing and amazing beauty, Mt Erie is awesome for being close to home, great views and fun climbs, Mazama is the farthest I'll go for a day of climbing and Index is still my biggest challenge.
.

Aran Kagen Team Coach / Route Setter / Instructor
Street Cred: Attended ten national youth climbing championships and countless divisional and regional championships, which has yielded a hefty bag full of medals (and participation ribbons). Graduated with honors and distinction from CU Boulder (2015) with a B.A. in "thinking and thinking about thinking" (AKA Philosophy/Psychology double major)
Climbing Experience: I first climbed at my own birthday party at the Redmond Vertical world actually. I loved it so much that I immediately joined one of the youth programs. I was 9 at the time, and shortly after, I joined the Vertical World climbing team. I continued competing with the team until I had to leave for college. Rock climbing taught me to work hard, developed my sense of humor, and helped me in so many other ways. Currently, I'm very happy to be back here coaching the team and route setting!
Favorite Climbing Area: You mean besides the Redmond VW steep zone? I think Bishop, CA has got to be my favorite place I've ever climbed. Everywhere you look, there are incredible boulders to climb with lots of safe fall zones. There's also some variety in rock types and beautiful scenery to take in. Last and most importantly, you can get some amazing cheesy bread in town that is to die for.
.
Caroline Brekkan Team Coach
Street Cred: I get recruitment calls from the U.S. Army (I'm not American). Queen of the monkey bars. And Monkey Face in Smith Rock was my first multi-pitch.
Climbing Experience: I fell in love with pulling on plastic holds on walls nearly 8 years ago. I was on Little Rockers for a few months before I joined the Vertical World Climbing Team in November 2008 I haven't left the gym since.
Favorite Climbing Area: I love Smith Rock because it requires technique stuff and that's kind of my thing. Although, I have to say mossy Washington granite has a special place in my heart. I also have a soft spot for the Grasslawn playground boulders and Mount Marymoor.

.

Ryan Tilley Instructor
Street Cred: Chair Peak, Goat Wall, exit 38, easy street, and exit 32
Climbing Experience: I started climbing with junior program at Vertical World 10 years ago.
Favorite Climbing Area: Mazama because all the walls are really big.
.

Brigit Anderson Instructor
Street Cred: WFR, CWI and hopefully some other CREDS soon
Climbing Experience: Since college so around 2009/2010? I studied abroad around a lot of mountains and realized climbing was a new way to travel in the mountains and access new stuff in mountains… so I started climbing!
Favorite Climbing Area: For pure ROCK climbing, Index because of the granite finger cracks.
.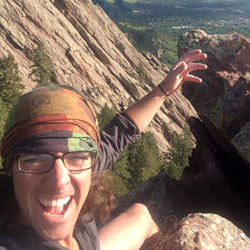 D. Morgan Miller Instructor

Street Cred: B.S. Recreation Management from Michigan State University; American Mountain Guides Association: 1) Climbing Wall Instructor Course Provider 2) Single Pitch Instructor and "I climb outside all the time"
Climbing Experience: I began climbing with my college's outdoor club in 1999.  I roped up for the first time at the Munising Ice Fest in Michigan's upper peninsula, and started indoor rock climbing at Planet Rock.
Favorite Climbing Area: Snoqualmie Valley.  Family, friends, mountains, rock, seasons, snow, history. I did though just visit Colorado's Flatiron's and got pretty psyched on the amazing opportunity to both trail run and rock climb in one massive playground!
 .

Alisa Tvorun-Dunn Youth Instructor
Street Cred: I was recently in Amsterdam visiting some family friends and while I was there I climbed in every gym in the city. So I guess now I'm an internationally known climber.
Climbing Experience: I've been climbing since I was 12 which isn't really a super long time but I'd say it's a pretty long time. I started climbing because I really loved climbing trees but my mom thought it was too dangerous so I moved to indoor rock climbing which has crash pads and ropes.
Favorite Climbing Area: I once accidentally went to Smith Rock when I missed a turn on my way to Yosemite, my brief time climbing there felt pretty magical.
.

Jenna Tseng Youth Instructor
Climbing Experience: I've been climbing for around 6 years. My Dad had work friends who obsessed with climbing and they eventually got me into the gym and later onto team.
Favorite Climbing Area: So far, my favorite has been smith rock, somewhat because I've been there the most. Lots of crimps, lots of footholds so it's kind of my style.
.

Josh McNamara Youth Instructor
Street Cred: I graduated High School!
Climbing Experience: I started Climbing 5 years ago when I did a Vertical World summer camp at the Redmond gym. After that my dad and I started climbing in the gym about twice a week. Favorite Climbing Area: Smith Rock. I have only gotten to go there once, but that first time got me hooked. I've always wanted to go back.
.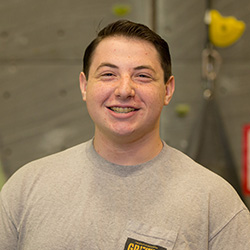 Sam Bernstein Youth Instructor
Street Cred: I'm a 4.0GPA high school student.
Climbing Experience: I've been climbing for about 6-7 years. I started climbing through a friends birthday party at Redmond Vertical World and subsequently joined the now defunct Junior program also at Redmond Vertical World.
Favorite Climbing Area: I honestly don't have a favorite climbing area because really anywhere where I can get up on some rocks and do my thing is pretty much perfect be it wave washed beach rock or exposed flanks in the cascade foothills.